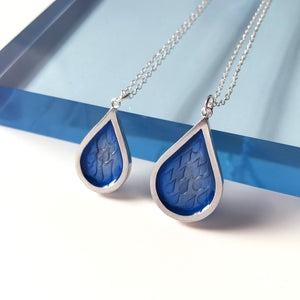 Kate Wimbush Jewellery
Small Blue Raindrop Pendant - Second
Regular price
£30.00
Sale price
£45.00
Tax included.
This is a listing for a 'Seconds' item which means there are slight imperfections with either the silver or resin, however they are still lovely pieces in their own right!
This small pendant is hand stamped with raindrop details and highlighted with blue resin. It measures approx 2cm in length and comes on an 18in trace chain as standard.
There are small stamping marks on the reverse of the pendant which does not affect its appearance when being worn. 
---
More from this collection